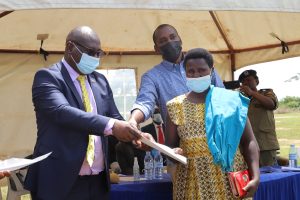 The Minister of State Lands, Hon. Dr Sam Mayanja, officiated at the handover of 25 land titles in Nkoma Katalebya Subcounty, Bishozi parish in Kamwenge district, one of the District local Governments that are implementing the second phase of USMID Program.
Together with the area MP and resident Honorable Minister Frank Tumwebaze, Dr Mayanja congratulated the district for the implementation of the USMID Program and tasked the beneficiaries to guard their land titles jealously.
He also appreciated USMID Progam and the World Bank for funding the program to support the Refugee Hosting Districts, in the areas of physical planning of the refugee host communities and their neighboring land within the district; enhanced land tenure security for both refugees and host communities; and some planned infrastructure investments.
While giving out the certificates and launching the land adjudication activities in the area, Dr Mayanja, explained the new security features tagged to the certificates that are meant to curb land forgery. These features include, NIN number of the owner, telephone contact, mini-deed print and bar code among others.
The event was attended by the Resident District Commissioner (RDC), CAO, LC1, LCIII, LCV, Permanent Secretary – Ministry of Lands, Housing and Urban Development (MLHUD), Staff Officers from the MLHUD, district representatives, residents and recipients of the land title certificates.
Kamwenge District is one of the 11 Districts that host a large number of refugees in the country, and are benefiting from the USMID-AF Program. The other 10 are; Adjumani, Moyo, Yumbe, Arua, Lamwo, Kiryandogo Isingiro, Obongi, Terego and Madi-Okollo.
The USMID-AF Program is a follow-on program, for five years (2019- 2023) that Government secured, after successfully implementing the first program of USMID (2014-2019). The program is solely funded by the IDA, of the WorldBank.