The National Physical Development Plan (NPDP) Project
The National Physical Development Plan provides the analytical parameters for the planned allocation, use and management of the country's land and other physical resources. It is intended to serve as a framework through which the planning and management of these resources are guided at the national level.
The NPDP is being formulated in light of the Uganda Vision 2040 and the Comprehensive National Development Planning Framework (CNDPF). The need for the NPDP is part of a recent ongoing process of physical planning and national policy making which has been taking place in Uganda over the past few years. It is the first of its kind in Uganda and among very few African countries.
The Ministry of Lands, Housing and Urban Development is mandated to carry out physical planning at the national level and hence is the project client while the Consultant is Messrs. Tzamir Architects and Planners (JV), ROM Transportation.
The NPDP is a framework for:
Identifying spatial planning issues and concerns, particularly those which are relevant on the both local and national levels;
Identifying the physical and competitive environments that initiate, foster, or discourage land usage activities;
Assessing the most appropriate characteristics for location of major spatial components and spatial disposition of infrastructure, economy, settlements and the environment;
Recognizing inter-sectoral linkages and their spatial arrangement;
Determining the most appropriate policy options and corresponding specific strategies, measures or actions to attain the desired national development objectives.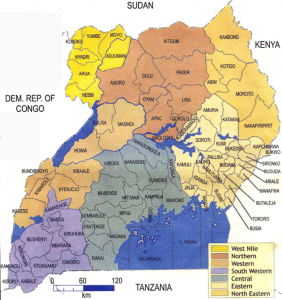 NPDP AIM
NPDP is a national plan aimed at coordinating and integrating the spatial dimension of sectoral policies through a territorially-based strategy. It is aimed at addressing the tensions and contradictions among sectoral policies, for example for conflicts between economic development, environmental and social cohesion policies in Uganda.
An important objective of spatial planning at the national level is to achieve spatial integration by decreasing differences between urban areas or regional growth poles, with economic vitality and those that are static or declining like peripheral rural areas.
Why NPDP
To transform any country from a predominantly peasant and low income country to a competitive, middle income, and modern industrialized nation, there must be a National Physical Development Plan which shows where:
Increased productivity in Agriculture is connected to agri-processing industries and to export markets via transport corridors;
Properly serviced industrial sites on infrastructure corridors are connected to the actual places where crops etc. are grown, to give the massive boost to industrialization which is needed. The current dispersed pattern of industrial locations, and policy of locating industrial sites in every area will not be efficient;
Urban areas will prosper in the above pattern and become engines of economic growth;
To steer clear of protected areas and avoid degradation of natural resources.
NPDP PROGRESS
The NPDP team is currently collecting and analyzing planning data from the different stakeholders. Stakeholder engagements are also on-going. Several ministries have been engaged prior to regional engagements
NPDP SCHEDULE
The project is meant to run for 18 months and is phased as follows:
Data Collection Phase
Data analysis
Preparation of scenarios
Preparation of the final plan
Upcoming Activities
Media Briefing
Presidential Launch
Regional Engagements & Consultations
For further Information, Call / Contact;-
Facebook @NPDP-Uganda
Twitter: @NPDP-Uganda
Email: dennisfo2002@yahoo.com
Telephone No: (0791-622 191/ 0705718904/ 0713603521)