Uganda is experiencing significant infrastructural developments through the Uganda Support to Municipal Infrastructure Development (USMID) program, among many other developmental projects. The USMID program, implemented by 33 Local Governments but supervised and coordinated by the Ministry of Lands, Housing, and Urban Development is intended to strengthen the capacities of the implementing local Governments, in improving urban service delivery.
This growth of urban centres, also known as secondary cities, has offered more important opportunities for economic development, led to a decongested Kampala Capital City, and expanded access to essential services such as health care, water, education, and employment, among others.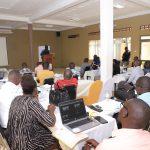 Intending to improve reporting on USMID Infrastructure Projects in particular and all Government of Uganda projects in their respective areas, effective 27th February 2023, the USMID program has conducted a series of media training workshops in a "modular training design system" to ensure local bloggers, and stringers have a grasp on tenets of basic reporting, accountability, responsible news reporting, evidence-based Reporting, development Reporting, and Conflict sensitive reporting.
The training is being conducted in all the 10 USMID program-implementing cities of Gulu, Lira, Soroti, Mbale, Jinja, Fort Portal, Mbarara, Hoima and Masaka- with a target of 35 local journalists and bloggers from each city, making a total of 200 to 300 media personnel that shall be trained. So far, there has been the training of 180 journalists from over eight (8) cities; Gulu, Lira, Soroti, Mbale, Jinja, Arua, Hoima and Fort-Portal.
Speaking to Charles Odongtho, a senior journalist and the Chief Trainer, he said, "According to the training from the seven cities of ten that we are training- 85% of the journalists knew about USMID, but surprisingly they didn't know the role of their local government/authorities. Most (90%) thought that the USMID infrastructural project support is forever, including maintaining and servicing the roads; refilling the potholes and replacing the street lights. They thought that the role of the local authorities was only to receive projects."
"Now, this is a big shock because I wonder how they have been writing authoritatively about USMID's role in funding infrastructural projects- and of course, knowing the role of the local governments. So, the question is, how have these journalists been writing about the USMID infrastructural projects," he added.
Media is an essential communication tool that enables a positive mindset in societies, so the USMID program believes that primarily, the sessions will lead to an improved quality of news channeled out to the public because once the information collected is well investigated it becomes easily believable and the population will benefit a lot from the information shared.
World over, journalists and media of all kinds play a critical role in being the voice of the voiceless; they oversee accountability on citizens' behalf and help bridge the gap between the governed and their governors. So, during the training, the journalists and media practitioners have been equipped with skills and tools to do factual, balanced, and well-sourced reporting, coupled with a sense of professional and ethical conduct as they work. This eventually leads to the shaping of more deliberate development agenda discussions in their respective local governments and Uganda in general.
The USMID program is in its 9th year, supporting the Urban Development Agenda in the country. The program started with 14 Municipalities (10 of which have since been named cities) and in its second phase, has since included 11 Refugee Hosting Districts and 8 other Municipalities.