[dt_logos category="" order="" orderby="" number="6″ dividers="true" animation="none" columns="4″ /]
On Tuesday July 14, 2020 the Acting Chief Justice Alphonse Owiny-Dollo sworn-in a 10-member National Physical Planning Board (NPPB) at the High Court in Kampala.
Officials from the Judiciary and Ministry of Lands, Housing and Urban Development as well as the Ministry of Local Government graced the function; they included Ag. Chief Justice Owiny-Dollo, High Court Chief Registrar, Lands Minister Hon Beti Kamya Turwomwe, Lands Ministry Permanent Secretary Mrs Dorcas Okalany, Local Government Minister Hon Raphael Magyezi, State Minister for Urban Development Hon Isaac Musumba, Uganda Land Commission Chairperson Hon Beatrice Byenkya Nyakaisiki.
Dr. Amanda Ngabirano the new Board chairperson noted that her team will make great contributions to the National Pyhsical Planning because it consists of highly qualified and committed individuals.
"I am confident of my team because it has highly qualified and committed people who are ready to put a mark in as far as physical planning of our country is concerned," noted Dr. Ngabirano who is also attached to the Department of Archtecture and Physical Planning Makerere University.
The Board consists of Mr. Vincent Byendaimira (member) from Ministry of Lands, Housing and Urban Development; Ms. Jackie Kemigisha Kiiza (member) from Ministry of Local Government, Mr. Arch Edward Ssimbwa (member) from Ministry of Works and Transport, Dr. Jerome Lugumira from National Environment Management Authority (member), Mr. Tugume Denis from the National Planning Authority (member), Dr. Earnest Kimbugwe (member) from the Private Sector, Ms Achola Amina (member) from the Private Sector, Ms. Florence Nambooze (member) from the Institute of Surveyors Uganda, Mrs. Josephine Nalubega Byabazaire (member) from Uganda Society of Architects and Dr Amanda Ngabirano (Chairperason) from Makerere University.
Lands Minister Hon Beti Kamya Turwomwe assured the members full support from the political leadership of the Ministry and urged the Board to ensure they bring sanity to the physical planning sector.
"I know the challenges ahead are huge but we have a lot of hope in you since you are the technical people in this field and we believe you will perform to our expectations; all i assure you is full support of the Ministry," said Hon Kamya.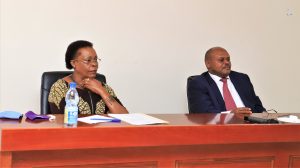 Honourable Justice Owiny-Dollo asked the new Board to think hard and loud of the country we intend to leave behind to our children.
"From where we are seated now (High Court central) to Jinja is just 80 kilometers and a few decades back it would take someone about 35 minutes to drive from Kampala to Jinja; it now takes one about 3 hours to drive from Kampala to Jinja! what kind of mess is this?," he asked.
He added that in 1950s and early 1960s Kampala City was one of the most organized cities in Africa and many people especially whites would visit to spend the weekends in Kampala and wondered why the statu quo was not maintained.
The Honourable Justice acknowledged that Uganda's land laws are one of the best in the world especially when it comes to Government acquisition of land.
"If the Government is interested in anyone's land for any purpose in Uganda, it does not take it forcefully; the Law highlights the isue of prompt compensation with the perspective of fairness and adequacy through the assesment by the Office of the Chief Government Valuer," he added.
The Ministry organized a two-day (July 15 and July 16, 2020) induction engangement for the newly sworn-in Board at Hotel Africana where officials from various MDAs facilitated.